What is G Suite and why does your company need it?
Google G Suite is a cloud-based product that targets businesses of all sizes. For the successful development of the company, decision-making speed comes first. Google offers customers support for the basic G Suite services, some tools for transferring and synchronizing data and working with APIs, as well as standalone and mobile versions of applications.
---
Choose a package and use G-Suite
Basic
$
5
/month
A package of professional business applications +30 GB for data storage. $5 per user per month or $50 per user per year. Package includes:

Gmail-based corporate mail
Voice and video chat
Shared Calendars
Documents, spreadsheets and presentations
24-hour phone and email support mail
Security and Domain Management Tools
30 GB cloud storage
Business
$
10
/month
A package with unlimited storage and an archive of $10 per user per month or $120 per user per year. In addition to the Basic functions:

Security and Domain Management Tools
Unlimited storage space (up to 5 users – 1TB is provided for each)
Search for content using Cloud Search
Provision of email documents: storage of email. mail, chats and files
User Activity Reports
Enterprise
$
25
/month
Advanced management features and functions. $25 per user per month or $300 per user per year. In addition to the Business features:

Preventing Gmail Data Loss
Disc data loss prevention
Placed S / MIME certificates
Gmail integration with supported tools
Enterprise-class access control with forced use of hardware tokens
Analyzing Gmail Logs in BigQuery
Thanks to intelligent cloud applications – your employees can work effectively with each other in real time, wherever they are.
Business Benefits
---
All that your company needs is only from $5 per user per month.
Addresses in the domain
Use professional email with addresses in your corporate domain of the form [email protected], and also create group mailing lists, for example [email protected]
Plenty of storage space
Each user of G Suite Basic gets 30 GB of storage for Disk and Gmail files. G Suite Business and G Suite Enterprise offer unlimited storage (more than 5 people)
24 hour support
You can contact Google support by phone or email at any time, and you will be answered by a person, not a robot. You can also quickly find the information you need in the Google Help Center.
Administration functions
Add and delete users, create groups and apply security settings, such as two-step authentication and single sign-on. All this can be done in the admin console.
Device management
Protect corporate data with device management. You will be able to track the location of devices, require the use of a password, and, if necessary, delete data from them.
Data transfer
Data transfer without unnecessary trouble. Use Google services to transfer to move your organization's data from your current repository to G-Suite. Fast, easy, always available on any device.
Combination of Functions
---
All the tools to work effectively in one package and on any device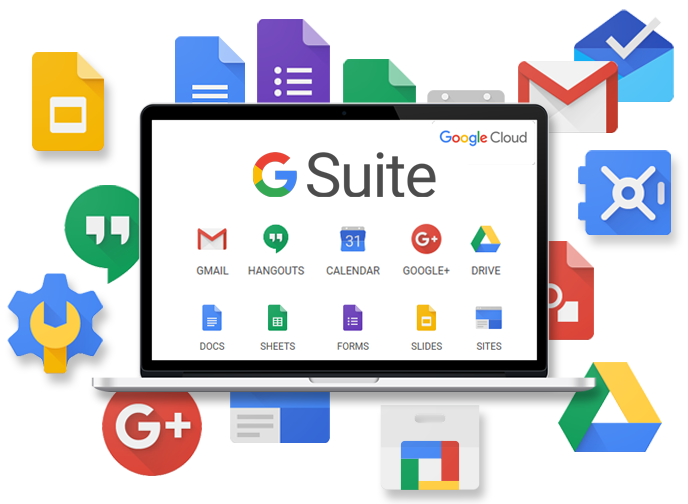 Communication
Interact with colleagues around the world.
Teamwork
Everything you need to translate ideas into reality.
Storage and retrieval
Store files and quickly find the data you need.
Safe and convenient management
Manage users, devices and data.